Uploader

Registrován: 04. 06. 2007 09:17
Příspěvky: 10316
Věk: 61
OfficeSuite Pro (Mobile Office) v5.3.1
Požadavky:
iOS 9.0 or later. Compatible with iPhone, iPad, and iPod touch.
Popis:
Citace:
The latest version of OfficeSuite brings the power and capability of a desktop app to the iPhone and iPad like never before! This is the perfect tool for effortlessly viewing, editing, creating and sharing Word, Excel, PowerPoint documents and converting them to PDFs.
Screen: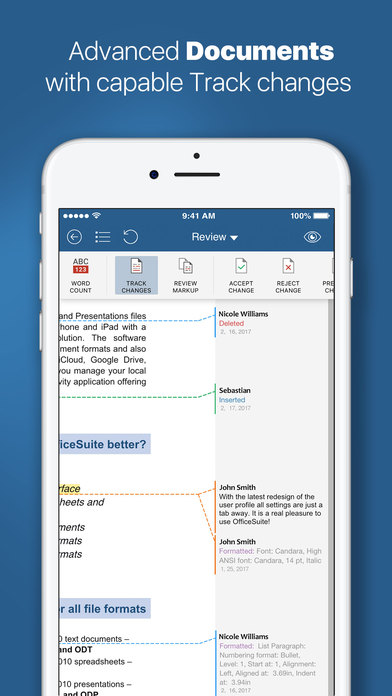 Stahuj zde:
Prohlížet odkazy mohou jen přihlášení uživatelé! Přihlašte se, pokud nemáte svůj uživatelský účet, můžete se zdarma registrovat - zabere to jen pár minut.
WHAT MAKES OFFICESUITE BETTER THAN ALL OTHER EDITORS:
· Extremely fast and easy to use
· Familiar desktop-inspired user interface
· No storage cloud lock-in. Supports Google Drive, Dropbox, Box, OneDrive and iCloud. No complex synchronizations - direct opening and saving to/from the cloud
· Full editor for Microsoft Word, Excel and PowerPoint documents
· View, annotate and edit Adobe PDF documents
· Simply view and edit RTF and CSV file formats
· Supports all Microsoft Office file formats
· Printing support
· Auto-correct while typing

DOCUMENT HIGHLIGHTS:
· Supports .doc, .docx, .rtf, .txt., .log file formats
· Advanced formatting (fonts, bullets and numbering, tables and pictures)
· Search/Replace feature to easily perform large-scale editing
· Convenient page navigation (zoom, page finder and edit/view modes)

SPREADSHEET HIGHLIGHTS:
· Supports .xlx, .xlsx, .csv file formats
· Advanced formatting (cell styles, borders, numbering, font color and style)
· Freeze/unfreeze columns and rows, insert and edit charts and pictures
· Multiple sheet support for large documents

PRESENTATION HIGHLIGHTS:
· Supports .ppt, .pptx, .pps, .ppsx file formats
· Advanced formatting (insert and reorder slides, adjust pictures, text and shapes)
· Create manual and automatic slideshows and support transition types
· Navigate easily using the Slide Carousel, Search, Zoom, and Go to Slide features

PDF HIGHLIGHTS:
· Annotate and save PDF documents without losing the formatting
· Regular and full-screen support
· Swipe between pages using the Page Carousel
· Navigate easily using the Search, Zoom, and Go to Page features
· Print and share documents
_________________
iGET Blackview, Lenovo Phab2 DUAL GOLD, nová Nokia 3310